Interested in meeting faculty and students and learning more about Biophysics program? We'd love to meet you at a conference to chat. Check below to see where we'll be next.
Join us at SACNAS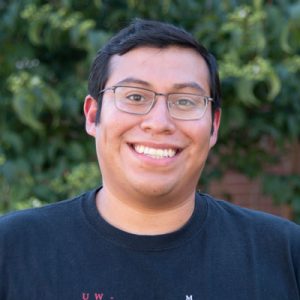 Join us at ABRCMS
Please meet with current student Kevin Lauterjung and professors Jim Keck, Chad Rienstra and Alessandro Senes who will be representing Biophysics at ABRCMS 2020, on November 9-13, 2020.
Stop by our booth – the University of Wisconsin-Madison (Biochemistry, Biophysics & Cellular and Molecular Biology) – to learn more about our program.
Meet us at the Dedicated Exhibit Hours, November 9-13 from 4:45-6:00 PM (Central time).
Would you like to set up a time to chat? Please contact us at biophysics@bocklabs.wisc.edu or email any of our representatives directly!